About the Conference
In today's digital age, technologies like cloud computing, wireless and communication network, Internet of Things and robotics and automation are pushing geospatial embedment across the technology continuum. Powered by internationally accepted standards and well-grounded ICT infrastructure, big data analytics and trend towards open and linked data, geospatial information has integrated itself across processes like business intelligence, system integration, digital engineering and the like and are being delivered on a variety of platforms like enterprise, social media, mobile and web portals.
Solutions powered by geospatial are used by any and every industry today, be it the traditional segments such as defence and security, agriculture, town and regional planning, governance to design and construction, infrastructure development, utilities management, disaster management, retail, banking and insurance and place-based marketing. Collectively, these solutions and domains are driving todays economies at individual to enterprise to government levels thereby furthering the value chain of geospatial information.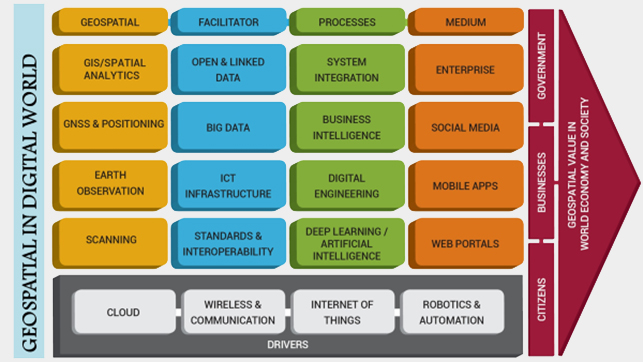 In order to reap benefits of geospatial technologies to the fullest, it is essential that countries work on the fundamentals first. Be it ensuring sound base mapping, geodetic infrastructure, ensuring standards and interoperability within line departments and systems as well as with outside agencies and stakeholders. It is also essential to make decision makers and policy makers aware of the power of geospatial technologies on why it is a MUST HAVE tool, rather than a good-to-have tool.
One of the significant ways to achieve this is by regularly convening together to share success stories, learn about the trends in technology and educate each other on how geospatial has been impacting workflows within various organisations and set up and the larger economy in general. With this aim in mind, National Survey Authority and Geospatial Media have joined hands to produce OMAN GEOSPATIAL FORUM from 10-11 April 2017 at Oman Convention Centre, Muscat.